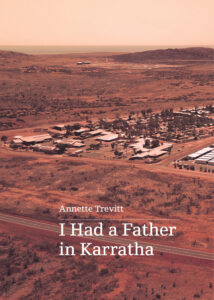 Published:

Upswell Publishing

Date:

2023

Formats:

Print
I Had a Father in Karratha
What happens when your father dies and he's in the Pilbara, 4,500 kms away?
What happens when your father dies and you fly across to lay him to rest and find his estate is a spectacular mess of hoarded junk, bank debts, lost paperwork and rundown properties in a mining town gone bust?
What happens when your father dies and you are the oldest child and the sole executor of his will?
I Had a Father in Karratha tracks Annette Trevitt's two-and-a-half-year epic undertaking of cleaning up her father's mess in Karratha, Western Australia. A fly-in fly-out marathon as she holds together her life with her teenage son in Melbourne.
Written in passages of reflective prose and text messages, what unfolds is an intimate story of being a daughter of a runaway father – a father who bolted when the going got tough. Trevitt's attention to reality is as relentless as the paperwork, the corporate sloth and greed she faces at every turn. Nothing is straightforward other than the humour and openness she brings to every absurd and maddening situation from one end of the country to the other.
This is a story of commitment, responsibility, doggedness and love. A legacy of an eldest daughter's determination to honour her father and lay him to rest.
Buy or borrow
We recommend browsing the business website or calling to confirm they have this book in stock or can order this book in for you before visiting in person